One of the best ways to prevent the spread of the infections or other germs is by sanitizing or cleaning your hand regularly. Now-a-days sanitizing you hand every time you touch any thing or do other work is mandatory.
BrandSTIK introduces a small compact touchless sanitizer dispenser which will help to reduce the spread of unwanted germs. It has built-in infrared smart sensor, sanitizer will come out automatically once laying your hand. Fully automatic and touch-free operation, to avoid the second cross-infection. Innovative non-drip design eliminates waste and counter top mess. Large, easy to fill opening. Ideal for lotions liquid soaps or sanitizers, etc. Perfect to use at bathroom, kitchen, office, school, hospital, hotel and restaurant.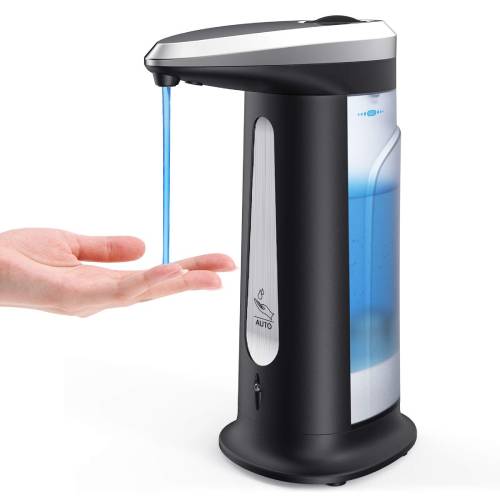 Product Description:
Clean And Safe: The hand soap dispenser with built-in smart infrared motion activated sensor, strong anti-interference ability, sensitive sensing, fully automatic and touch-free operation, no more contact to avoid the second cross-infection.
Save More Money: Single out Max. 1ml liquid, eliminate waste and countertop mess. This lotion dispenser with 400ml extra large capacity, ideal for lotions, shampoos, liquid soaps or sanitizers, etc.
Easy To Use: Just put this electric soap dispenser on a flat place, powered by 4xAAA battery (not included), no wiring, no tools needed, easy to install. With LED indicator light, more convenient to use at night.
Premium Quality: This touchless soap dispenser is made of high quality ABS material, non-toxic, heat resistance and anti-scratch, durable for years use. Transparent container allows user to check the capacity and clean it easily.
Widely Use: The auto soap dispenser is ideal use in bathrooms, kitchens, kindergartens, offices, schools, hospitals, airports, hotels and restaurants.
Product Details:
Dispensing Nozzle
Infrared Sensor
LED Indicator
Base Bracket
Soap Tank Cover
Battery Compartment
Switch Button (ON/OFF Chime)
Specifications:
Material: ABS electroplated
Capacity: 400ml
Cordless, powered by 4 x AAA battery (Not included)
Easy to use and convenient. It can be used in hospitals, office, home, hotel etc.
Call us for more information on +91 9594070940 / info@brandstik.com
Please Click On The Link For More: https://www.brandstik.com/products/covid19-essential-kit