Exhibition season has flung back around faster, Are you Ready… For your next exhibition?
We have everything you'll need for your next exhibition or conference from branded giveaways to corporate gifts.
How and why does it work? For example, if you distribute branded mugs to exhibitors, they'll remember your product or service for longer, and in greater detail. Give consumers something that'll remind them of you for months to come. This is where promotional merchandise comes into full effect.
Awesome, tried-and-tested exhibition merchandise, include: promotional bags, drinkware, technologies such as USB sticks and powerbanks, pens, keyrings.
For-the-day merchandise that are essential, include: branded clothing (t-shirts, polo shirts, caps, etc.). Highly conducive to a clear brand identity at your stand.
Below are the promotional exhibition merchandise Ideas that every business will benefit hugely from.
Low Cost Promotional Options:
1) Mobile Sticky Pouch
It's an effective attention-getter that gives your business more freedom to get creative with a full-color direct print on the silicone phone wallet. The 3M adhesive ensures that it stays on the back of your phone and will cleanly come off when you take it off. You can even get a PMS matched color on these phone pockets.
2) 3 In 1 Combi Set
This compact set is a simple item that will become a desk essential. The pack has a 350gsm cover, and contains two sets of sticky notes, plus page tags in five bright colours. Our price includes full colour print to the cover, and one colour print to both sets of sticky notes.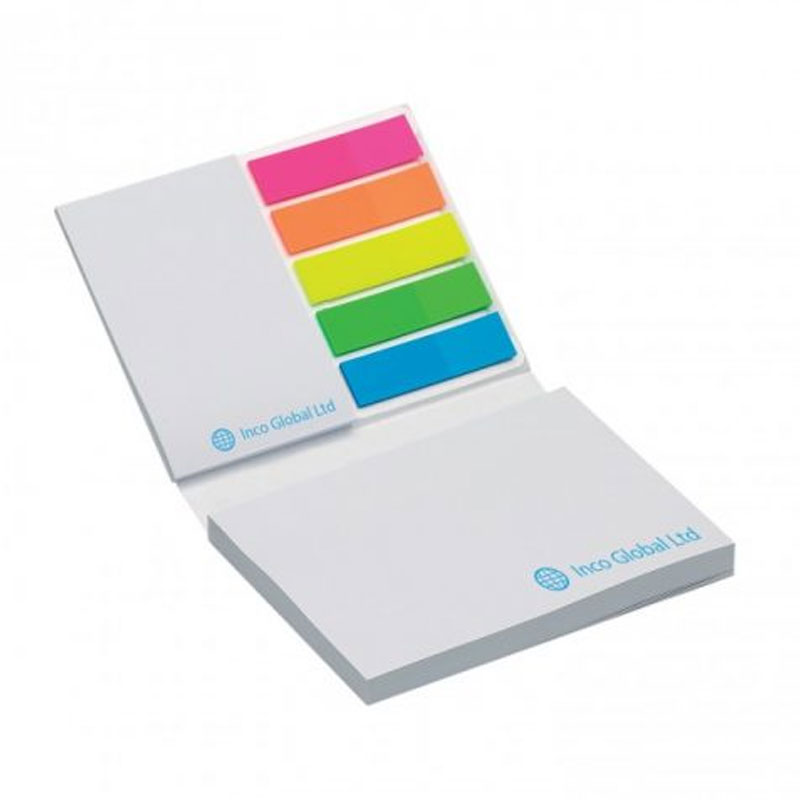 3) Square Shape With Spinning Circle Keychain
It is Single And Double Sided Wooden Engraving Keychain. We can engrave your desirable texts or images as per your request.
4) Paper Bag
These natural stylish eco-carriers are sturdy and wide enough for heavier gifts, like books and pottery, as well as boutique clothing and accessories. Available in four sizes. Their smooth white finish is an ideal base for printing bold or subtle designs.
5) Promotional Pens
Promotional pens also work as great corporate gifts. On events like business seminars, conferences etc. these promotional pens serve to be useful. They help to spread the name of the company far and wide.They helps to build the brand name of the company hence empower its goodwill. Put your name or company's name on the pen to add the unique touch. 
6) Keychains
Now you can personalize a gift that someone will carry with them forever, a beautiful keychain! It is perfect for engraving logos, initials, or anything else you can think of.
7) Metal Mobile Key Ring Holder
Universal mobile phone ring grip can also be used as a kickstand for your phone.
8) Pop Socket
A MPOP sticks flat to the back of your phone, tablet or case with its rinsable, repositionable gel. Once extended, the MPOP becomes a media stand for your device, a photo or texting grip, or lower it for a video chat. The possibilities are endless with MPOP, and with full color imprinting, so are the imprint possibilities.
9) Switch Mobile Holder
Switch mobile holder offers an easy and convenient way to neatly store your phone and cord while charging. Simply place your mobile phone on the holder and wrap the adapter's power cord around it. Insert the adapter through the opening and plug into the socket. The rubberized base helps keep your phone in place while charging.
10) Rubber Mouse Pad
Develop Custom Mousepads based on your design and budget. This Mouse Pad provides your mouse with a smooth surface ensuring greater accuracy, control, and faster response. Durable surface and non-slip backing keep your mouse on track and performing at its best. The top surface is heavily textured and smooth with least possible friction, and the base is made of anti-slipping thick mesh rubber for A Secure Grip on Smooth Surfaces.
11) Card Holder
Top quality PU leather business and credit card holder, for men and women. Stylish professional protector design and smudge-free elegant exterior. Matches all business suits, designer clothes and casual attire.
12) Fidget Spinner
This Fidget Spinner is a product which is made up of plastic material and is in black color. It has 3 circular sides to it, and the surface is smooth which protects your fingers from scratching. It can be used by all people of age 3 and above. It can be taken to any place and used, from the office to the school, house, park etc. It is long lasting and is a good toy for gifting.
Premium Options
1) Pendrive
Present your brand with a unique gift with Flip Card Shape USB Flash Drive – 16GB.
2) Palm 5000 MAh Power Bank
Smallest Power Bank in the world. At attractive prices. Compatible with all iPhones & all Android devices, Tablets, Cameras & iPods etc. Smallest Palm size compact & elegant design.
3) XLITE Bluetooth Touch Lamp Speakers
This is an awesome product, which can be a wireless Bluetooth speaker, a smart touch mood night light, h & s-free speaker phone, or just a music player. As a smart touch night light, there are 7 mode lighting levels, tap the top & the lighting mode will change, adding ambiance while playing music. As a Bluetooth speaker, it can be compatible for Bluetooth device & support TF/SD card. It is free to enjoy music & answer phone call h & s-freely.
4) GOQii Fitness Band
GOQii Heart Care advanced activity tracker comes with heart rate monitor, step-distance-calorie counter, an integrated charger which can be plugged into any standard USB port. You lso get features like call, SMS, E-mail, WhatsApp notifications and Auto sleep mode.
5) Leather Wireless Diary With Power Bank
WIRELESS DIARY POWER BANK WITH USB 5000mAh, Type-C, Apple lightning Cable, Has a paper organizer ideal for taking notes, Slots for your credit cards, passport and pen.
Capacity: 5000mAh / 10000mAh,
Leather Diary Wireless with 16 GB Mini UDP Chip Pendrive
Input: USB Port
LED indicator
Output: Micro USB
Booth Merchandise
1) Collar T-Shirt
100% pure cotton polo shirt
2) Round Button Badge
Round plastic badges made up of plastic material with a pin on the back side. Badge is a perfect promotional giveawy for events, fundraising activities. Our full colour print badge allows customised theme to maximise impact.
3)  Custom Lapel Pin
Custom pins are the perfect way to promote your business, raise awareness, build buzz around a new product or excite your fan base. From creating jewelry quality recognition pins to inexpensive promotional giveaways.
4) ID Card Lanyard
Promotional lanyards are ideal for any festival or business conference where attendees detail and credentials need to be on show. These promotional lanyards are a fantastic giveaway or handout at all types of event, from music festivals to business conferences.
Visit us at www.brandSTIK.com or https://brandstik.com/products/promotional-exhibition-ideas to see our full range.
If you would like to enquire or have any queries, contact our friendly team on +022 65671222 or email us at info@brandstik.com